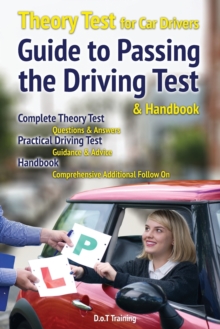 Theory test for car drivers, guide to passing the driving test and handbook : 2019
1789630452 / 9781789630459
Usually dispatched within 4 weeks
156 x 234 mm, 298 grams 220 colour photos and drawings
Written under a full current compliant Driver and Vehicle Standards Agency licence.
This book is essential reading for learner car drivers and contains the entire official theory test revision questions and answers for car drivers as well as in-depth comprehensive advice and guidance for passing the practical driving test.
It is written in collaboration with both an experienced driving instructor and examiner.
The combination of their knowledge with added user-friendly guides provides everything necessary for your success in advancing from L plates to a pass certificate, ultimately progressing to the freedom of the open road.
For on-going support, this book includes an invaluable 14 chapter `How to' handbook which has a wealth of practical information ranging from how to protect your licence and obtain insurance through to changing a wheel. This 3 in 1 edition comprises:* Over 750 multiple choice DVSA revision theory test questions and answers* A useful practical guide to passing the on road driving test* New driver's handbook - a `How To ' for new drivers
BIC:
1DBK United Kingdom, Great Britain, VSF Roadcraft, driving & the Highway Code