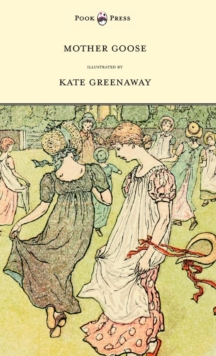 Mother Goose Or The Old Nursery Rhymes
1447438051 / 9781447438052
Usually dispatched within 4 weeks
140 x 216 mm, 219 grams 58 pages, 1, colour illustrations
Kate Greenaway's 'Mother Goose Or The Old Nursery Rhymes' was originally published in 1881, it contains many nursery rhymes and tales together with her beautiful illustrations.
Many of the earliest children's books, particularly those dating back to the 1900s and before, are now extremely scarce and increasingly expensive.
Pook Press are working to republish these classic works in affordable, high quality, colour editions, using the original text and artwork so these works can delight another generation of children.
About the Illustrator: Kate Greenaway (1846-1901) was one of the earliest contributors to children's literature and, along with her contemporaries Walter Crane and Randolph Caldecott, was amongst the most influential illustrators in the development of children's colour picture books.
Her collaboration in 1876 with Edmund Evans who reproduced her paintings using hand-engraved wood blocks brought her much popularity.
She has enchanted people, young and old, for over one hundred years with her watercolour illustrations of sweet, charming eighteenth century children with their quaint costumes and idyllic scenes.
In recognition of her lifetime work, the Chartered Institute of Library and Information Professionals of Great Britain established an award in her name in 1955 and to receive the Kate Greenaway Medal today is considered the highest accolade a British illustrator can be given.
BIC:
YDP Poetry (Children's / Teenage), YNV Hobbies, quizzes & games (Children's / Teenage), YQA Educational: Art & design