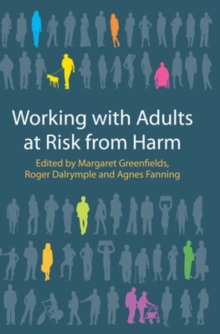 Working with adults at risk from harm
0335241220 / 9780335241224
Stock expected by 12/04/2020
"This important book brings together valuable resources and insights in a key area of practice which has often been overlooked, and where disadvantage and discrimination are rife, but which also deserves and demands serious attention of the kind offered here."Roger Smith, Professor of Social Work Research, De Montfort University, UKThis comprehensive book uniquely acknowledges the overlap between different states of adult vulnerability within a range of health, social care and community contexts.
The book looks beyond social work practice and legislative focus to examine the categories of 'at risk' and 'vulnerable adults'.
These include often forgotten groups such as homeless people, prisoners and migrant workers.Through a range of practical examples, the book illustrates how professionals can usefully and effectively intervene to lessen the chance of a member of an excluded community becoming at greater 'risk' of further vulnerability.
The book includes:Explanations of core themes and implications for a range of professionals and service providers with a practical and accessible focus Case studies and practice examples from work with vulnerable groups Illustrative examples of how different states of vulnerability are frequently contingent upon one another Working with Adults at Risk from Harm is ideal for third-year undergraduate students and Master's students in the fields of social work, social care, community health and education, as well as staff working in public sector who will have contact with vulnerable individuals in their professional life.
Contributors: Jill Aitken, David Bailey, Jennifer Burton, Caroline Cole, Jo Edwards, Michael Farquharson, Lalage Harries, Tennyson Mgutshini, Melanie Parris and Kate Potter.
BIC: