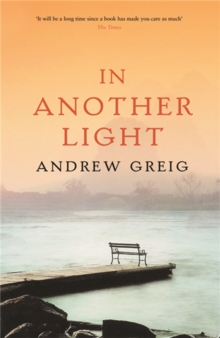 In another light
0753820072 / 9780753820070
Reprint. Originally published: 2004.
WINNER OF THE SALTIRE AWARD Andrew Greig has a terrific track record in paperback. His last novel, That Summer, sold over 70,000 copies 'Greig is a master of his material and unfurls his canvas with meticulous care...tense and poignant' Sunday Telegraph 'Big, rich and as ambitious as any novel by a Scots writer that I have read in years' Allan Massie, Scotsman 'Recuperating from a severe brain injury at his mother's home, Edward Mackay discovers a small box labelled "Penang". In it are mementoes of the father he never knew...the settings flip between the heat and lushness of Thirties Penang an
'Two small, confined communities in which established connections are cut across by shifting allegiances as people come and go: in cold climate as in hot, now as then, love is a complicated, compromising business' Times Literary Supplement A young man leans over the railings of the ocean liner bound for the exotic shores of Penang.
It is early in the 1930s and Dr Alexander Mackay is on his way to take up his post running a maternity hospital in the colony.
During the voyage he meets two beautiful sisters and the seeds of a scandal are sown.
Seventy years later Edward Mackay wakes after a major brain trauma.
In the hazy shadowlands of illness, he conjures the figure of his dead father, a man he knew so little about.
This near-death experience provokes a move to the wilds of Orkney, where Edward joins a project to harness the tides around the island as a renewable source of energy.
But in the tight-knit island community passions also run high.
BIC: