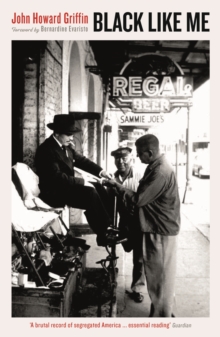 Black like me ([New] edition)
1788164520 / 9781788164528
20 cm xv, 208 pages : illustrations (black and white)
General (US: Trade) Learn More
Professional & Vocational
Tertiary Education (US: College)
New edition with a foreword by Bernardine Evaristo 'A brutal record of segregated America ... essential reading' Guardian'An anti-racist classic' Bernardine Evaristo In the autumn of 1959, a white Texan journalist named John Howard Griffin travelled across the Deep South of the United States disguised as a working-class black man.
Black Like Me is Griffin's own account of his journey. Published in book form two years later it sold over five million copies, revealed to a white audience the daily experience of racism and became one of the best-known accounts of racial injustice in Jim Crow-era America.
Embraced by some and fiercely criticised by others, its legacy sixty years on remains problematic, but Black Like Me nevertheless stands as a fascinating document of its times. 'There is a saying among Negroes that no white man, no matter how hard he tries, can really understand what it's like to be black in America.
John Howard Griffin has come closer to this understanding than any white man that I know.' Louis Lomax, Saturday Review'If it was a frightening experience for him as nothing but a make-believe Negro for sixty-six days, then you think about what real Negroes in America have gone through for 400 years.' Malcolm X
BIC: