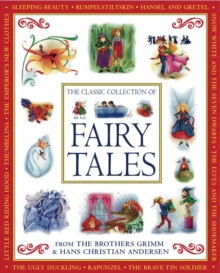 The classic collection of fairy tales
1843227878 / 9781843227878
This title is from The Brothers Grimm & Hans Christian Andersen.
Children and adults alike will delight in these enchanting tales, which are just as popular today as they were over a hundred years ago.
These classic stories have withstood the test of time and are part of a heritage of folk and fairy tales that are shared across borders and languages.
This collection contains twenty-four popular tales, retold for the contemporary reader, including wonderful favourites such as "The Princess and the Pea", "The Elves and the Shoemaker", "Rapunzel and The Ugly Duckling".
Accompanying the text, Cathie Shuttleworth's beautifully intricate illustrations and gold embellishments decorate every page, making this lovely book an essential addition to any children's library.
Classic children's stories from the fairytale masters Hans Christian Andersen and The Brothers Grimm, with best-loved tales retold for today's generation.
This title is delightfully illustrated throughout with colourful and intricate drawings.
Embellished with gold decorations on the cover and every page, this is an heirloom volume that will be treasured by children everywhere.
BIC:
YDC Anthologies (Children's / Teenage), YFJ Traditional stories (Children's / Teenage)