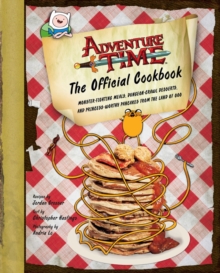 Adventure time - the official cookbook : monster-fighting meals, dungeon-crawl desserts, and princess-worthy pancakes from the land of Ooo
1785655914 / 9781785655913
26 cm 106 pages : illustrations (colour)
General (US: Trade) Learn More
Children / Juvenile
Teenage / Young Adult
TV tie-in "An Insight Editions book.".
Grab your friends and get cooking in the land of Ooo with Adventure Time: The Official Cookbook, featuring recipes from all your favourite characters and kingdoms.
Finn has come together with his friends to complete a cookbook that once belonged to his mom.
Are you ready to feast your eyes and prepare your stomach for the most awesome, most delicious meals this side of the Candy Kingdom?
BIC:
APT Television, YNF Television & film (Children's / Teenage)