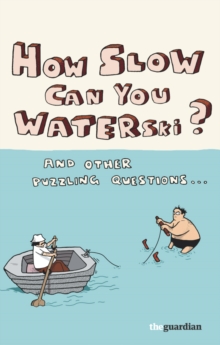 How slow can you waterski?
0099505266 / 9780099505266
Stock expected by 12/04/2020
The answers to some of the big questions of our time - and a few you probably haven't even thought of...
When the powers that be reduced the speed limit on Lake Windermere to 10 knots, waterskiers complained that their sport was now completely scuppered.
So, just how slow can you waterski before you start to sink beneath the waves? And, while we're about it, how long can you survive in a freezer?
What are the chances of being struck by lightning in bed? And why is it so esay to raed wrods eevn wehn the lteetrs are mdduled up?
Everyday life can pose some mind-boggling questions - but where do you find the answers?
The "Guardian's" popular 'This Week' column has been looking into the science behind the news for three years, and "How Slow Can You Waterski?" draws together a selection of the most imaginative questions and the most surprising answers.
If you've ever wondered what makes a planet a planet, why submarines keep bumping into things or even if it's safe to eat mud, "How Slow Can You Waterski?" will prove irresistible - and enlightening - reading.
BIC: