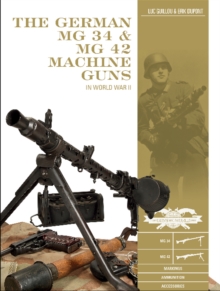 German MG 34 and MG 42 Machine Guns: In World War II
0764359363 / 9780764359361
The German MG (Maschinengewehr) 34, along with the later-war MG 42, was a recoil-operated, air-cooled machine gun and is considered the world's first general-purpose machine gun.
Considered the most advanced machine gun in the world at the time, its ease of mobility and high rate of fire-900 rounds per minute-made it ideal both for infantry and antiaircraft use.
First entering service during the Spanish Civil War in 1936, it remained in Wehrmacht service through the end of WWII in 1945, along with its updated model, the MG 42.
This illustrated book presents the design, manufacturing, and development both of the MG 34 and MG 42, from its acceptance by the German military through production and combat use from 1936 to 1945.
Includes close-up views of markings and other details, as well as a breakdown of the weapon.
Accessories such as ammunition and gun mounts are featured throughout the book, as are rarely seen combat-related uniform and equipment items.
BIC: