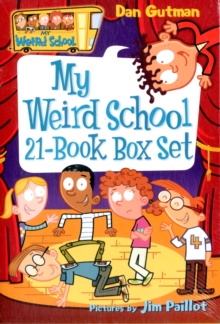 My Weird School 21-Book Box Set
0062022717 / 9780062022714
Stock expected by 23/04/2021
130 x 194 mm, 1742 grams 2500 pages, Line Illustrations
Twenty-one hilarious chapter books in one great box!
With more than 10 million books sold, bestselling author Dan Gutman's My Weird School series really gets kids reading. Things have gotten weirder! From a principal who kisses pigs to a teacher who wears dresses made of pot holders, A.J. and the gang from Ella Mentry School have had some weird and wacky adventures.
Now all twenty-one books in the bestselling My Weird School series are together in one box.
This collection is perfect for classrooms and reluctant readers alike and includes: #1: Miss Daisy Is Crazy! #2: Mr. Klutz Is Nuts! #3: Mrs. Roopy Is Loopy! #4: Ms. Hannah Is Bananas! #5: Miss Small Is off the Wall! #6: Mr. Hynde Is Out of His Mind! #7: Mrs. Cooney Is Loony! #8: Ms. LaGrange Is Strange! #9: Miss Lazar Is Bizarre! #10: Mr. Docker Is off His Rocker! #11: Mrs. Kormel Is Not Normal! #12: Ms. Todd Is Odd! #13: Mrs. Patty Is Batty! #14: Miss Holly Is Too Jolly! #15: Mr. Macky Is Wacky! #16: Ms. Coco Is Loco! #17: Miss Suki Is Kooky! #18: Mrs. Yonkers Is Bonkers! #19: Dr. Carbles Is Losing His Marbles! #20: Mr. Louie Is Screwy! #21: Ms. Krup Cracks Me Up!Perfect for reluctant readers and word lovers alike, Dan Gutman's hugely popular My Weird School series has something for everyone.
Don't miss the hilarious adventures of A.J. and the gang.
BIC: