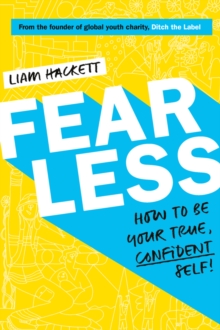 Fearless : how to be your true, confident self!
1407197932 / 9781407197937
21 cm 152 pages : illustrations (colour)
You can be Fearless with help from this interactive and infomative book for tweens & teens. Fearless helps you find the confidence to be your true self. With vibrant colour illustrations throughout, Fearless shows that by breaking free from labels and stereotypes, together we can build a generation who are healthy, happy and can truly realize their full potential. Fearless explores how stereotypes influence everything - from how you feel about your body, to your interests and career aspirations. Includes: interviews with and quotes from inspirational people who defy stereotypes, such as female politicians and male dancers games and activities to get you thinking outside the box. Written by Liam Hackett - founder of global anti-bullying charity, Ditch the Label.
BIC:
MBNH1 Hygiene, VFB Personal safety, VFD Popular medicine & health, VFJ Coping with personal problems, VFXC1 Teenagers: advice for parents, VS Self-help & personal development, VSPM Assertiveness, motivation & self-esteem, YNT Science & technology: general interest (Children's / Teenage), YXA Personal & social issues: body & health (Children's / Teenage), YXL Personal & social issues: self-awareness & self-esteem (Children's / Teenage)