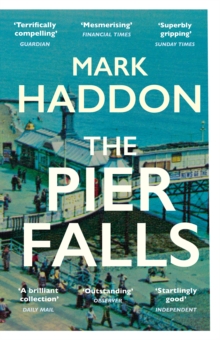 The pier falls and other stories
1784701963 / 9781784701963
20 cm 346 pages : illustrations (black and white)
Reprint. Originally published: London: Jonathan Cape, 2016.
The first collection of stories from the author of The Curious Incident of the Dog in the Night-Time and The Porpoise. 'Terrifically compelling' GuardianA seaside pier collapses.
An expedition to Mars goes terribly wrong. A thirty-stone man is confined to his living room. One woman is abandoned on a tiny island in the middle of the ocean.
Another woman is saved from drowning. Two boys discover a gun in a shoebox. A group of explorers find a cave of unimaginable size deep in the Amazon jungle.
A man shoots a stranger in the chest on Christmas Eve. 'The real redemption in these superbly gripping stories comes from their canny human detail, and the vivid, unsettling clarity they bring to our lives' Sunday Times
BIC:
FA Modern & contemporary fiction (post c 1945), FYB Short stories