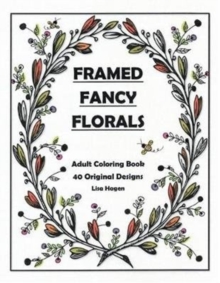 Framed Fancy Florals : Adult Coloring Book - 40 Original Designs
1098303571 / 9781098303570
4 x 279 mm, 0 grams 90 pages
Framed Fancy Florals is a delightful collection of 40 original designs created by a decorative artist.
Simple in their complexity, each design features hand drawn elements, a bold framework surround and repetitive forms offering a relaxing coloring experience resulting in a finished artwork suitable for display.Appropriate for all ages60lb opaque white paperCourtesy test page includedHigh quality one-sided printingVertical design layout8.5" x 11"Printed in the USAUse this coloring book as a source of inspiration to unlock your creativity and imagination.
Each page is a delightful take on flowers based on pattern and decorative arts details.
A gentle and relaxing coloring experience sprinkled with words of encouragement, each page can be colored, removed and even embellished with glitter, crystals and more.
Printed on quality stock the paper holds up to pencils, pens, markers and paper glues.
For best results with felt pens and markers, place a piece of paper behind the page to ensure no bleed-through.
Inspired by nature, Framed Fancy Florals will cultivate your imagination.
Enjoy!"The world of reality has it limits; the world of imagination is boundless." Jean-Jacques Rousseau
BIC: