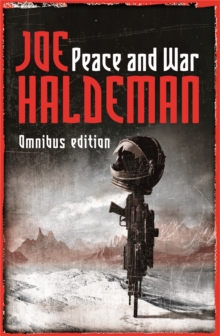 Peace and war (Omnibus ed)
0575079193 / 9780575079199
Contents: The forever war. Originally published: New York: St. Martin's; London: Weidenfeld & Nicolson, 1975 - Forever peace. Originally published: New York: Ace; London: Millennium, 1997 - Forever free. Originally published: New York: Ace, 1999; London: Gollancz, 2000.
"THE FOREVER WAR is damn near perfect" Peter F. Hamilton "If there was a Fort Knox for science fiction writers who really matter, we'd have to lock Haldeman up there" Stephen King THE FOREVER WAR won the Hugo, Nebula, and Ditmar Awards as Best Science Fiction Novel of 1975 - a unique achievement FOREVER PEACE won the Hugo, Nebula, and John W. Campbell Awards in 1998, which is almost unprecedented A great value omnibus edition
WAR William Mandela is a reluctant hero, drafter to fight in a distant interstellar war against unknowable and unconquerable aliens.
But his greatest test will be returning to Earth. A few months of his tour of duty equate to centuries on his homeworld, during which he becomes increasingly isolated from the world he has been fighting to protect FREE Mandela returns home for the last time - to find humanity has evolved into a group conciousness which excludes him.
Alone, alieneated and missing the certainties of combat, he and his fellow verterans search for an escape - and finally look towards space.
PEACE A war is raging, fought by indestructible machines operated remotely by soldiers miles away - and for soldiers like Julian Class, war is truly hell. So when he anc his companion, Dr Amelia Harding, uncover something which could take the universe back to square one, the prospect isn't so much terrifying, as terrifyingly tempting ...
BIC: