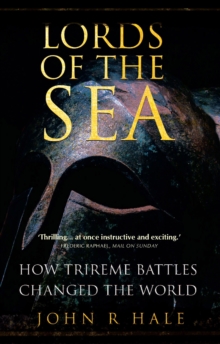 Lords of the sea : the epic story of the Athenian navy and the birth of democracy
1906142785 / 9781906142780
Stock expected by 23/04/2021
20 cm xxxiii, 395 pages : illustrations (black and white), maps (black and white)
Reprint. Originally published: London: Gibson Square, 2009.
Lords of the Sea tells the true story behind the upcoming blockbuster 300: Rise of an Empire and explains how the Athenians established the modern world as we know it. 300: Rise of an Empire is the bloody epic based on the graphic novel by Frank Miller.
However, the true history behind leading character General Themistocles and the rise of Athens is a story that also deserves to be told: without him and the courageous exploits of his free men, the world as we know it would never have come to be. Lords of the Sea is a wonderful and evocative book looking at the remarkable birth of the first ever modern democracy following a September day in 480 BC in Athens.
When the Athenians lured the armada of Persian King Xerxes into the narrow straits at Salamis, their small navy inflicted a crushing defeat that became a key turning point for world history.
John R. Hale narrates for the first time how democracy grew from the need for skilled rowers who were free men through the definitive history of these 600 swift and dangerous ships, and the stories of Athens's great leaders, from visionary strategists to seductive rogues, who established Athens' democratic rule and its astonishing supremacy.
This is history as thriller-writing, with a cast of colourful characters forming a stirring chronicle in the mould of Rubicon and Persia.
BIC:
1QDAG Ancient Greece, HBJD European history, HBLA1 Classical history / classical civilisation, HBTM Maritime history