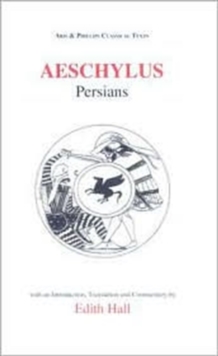 Aeschylus: Persians (First published in the UK in 1996. Reprinted with )
0856685976 / 9780856685972
Stock expected by 27/05/2021
149 x 210 mm 210 pages, 6 Illustrations, black and white
Professional & Vocational Learn More
Tertiary Education (US: College)
A ghost summoned with bizarre rituals from the underworld, the elaborate protocol of the Persian court, desperate lamentation, self-mutilation, and a thrilling eye-witness account of the battle of Salamis - these are some of the features of Aeschylus' Persians which make it one of the most exciting examples of ancient theatre.
As the earliest surviving European drama it is of incalculable interest to students of ancient literature: as the only extended account of the Persian wars by an author who fought in them, it is a unique document of the Athenian historical imagination.
In this, the first English language edition of the text with a commentary for thirty-five years, the particular focus is on the visual and aural effects Aeschylus created, his extraordinarily rich imagery, and the play's unique contribution to Athenian democratic ideology. [Greek text with facing-page translation, commentary and notes.
This edition was reprinted in 2007. Although it was not substantially revised or updated, a short bibliographic update describing important contributions to scholarship on Persians has been included.]
BIC: