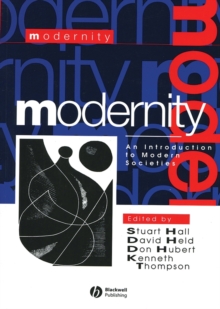 Modernity : An Introduction to Modern Societies
155786716X / 9781557867162
Stock expected by 12/04/2020
181 x 242 mm, 1218 grams 690 pages
Professional & Vocational Learn More
Postgraduate, Research & Scholarly
Undergraduate
"Modernity: An Introduction to Modern Societies" is a new sociology textbook which provides a comprehensive and stimulating introduction to the history, sociology and ideas of modern society.
It has been written for students and readers who have no prior knowledge of sociology, and is designed to be used in a variety of social science courses in universities and colleges.
The book is divided into three parts, corresponding to the formation, consolidation and prospects of modernity.
From the start, four major social processes are identified: the social, the cultural, the political, and the economic.
These form the basis of the four chapters in Part 1, and organize the narrative or 'story-line' of the rest of the text.In Part 2, they provide the framework for an analysis of what developed industrial societies look like and how they work. And in Part 3,they provide the basis for identifying the emergent social forces and contradictory processes which are radically re-shaping modern societies today.
This is the widest-ranging introduction to the nature of modern societies and will be invaluable to introductory and post-introductory students of sociology.
BIC: