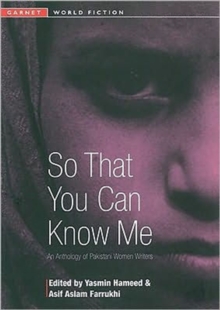 So that you can know me : an anthology of Pakistani women writers (Abridged rev. ed)
1859641148 / 9781859641149
Usually dispatched within 2 weeks
Ghulam Mohammad, successful hotelier and shop owner, wants to sell up and buy a church a derelict church in a run-down corner of Birmingham and convert it into a mosque.
But his son has other plans. With an eye on his temporal rather than spiritual riches, he will stop at nothing to protect his inheritance . . . This collection of seventeen short stories by Pakistani women covers a wide range of subjects, from the stream-of-consciousness that is Millipede recounting a man s descent into madness as his obsession that he has become infected by insects grows to the violence shown by a father to his son when he beats him to within an inch of his life in The Coach .
The stories have a diversity that reflects Pakistani women themselves.
First published by the Pakistani Academy of Letters, the narratives from the post-independence generation are translated from Urdu, Punjabi, Seraiki, Pushto and Sindhi.
They reveal the increasing power and influence that Pakistani women writers have achieved in the last half-century and explore the contrasts and conflicts between the modern and the traditional worlds.
This anthology has been produced in collaboration with UNESCO."
BIC:
DQ Anthologies (non-poetry), FA Modern & contemporary fiction (post c 1945), FYB Short stories