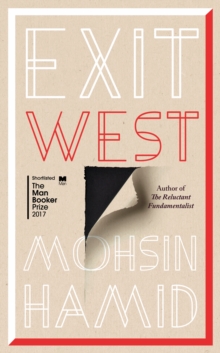 Exit west
0241290082 / 9780241290088
Usually dispatched within 2 weeks
SHORTLISTED FOR THE MAN BOOKER PRIZE 2017SHORTLISTED FOR THE LOS ANGELES TIMES BOOK PRIZE FOR FICTIONNOMINATED FOR THE NATIONAL BOOK CRITICS CIRCLE AWARD FOR FICTIONWinner of the Aspen Words Literary Prize*One of Barack Obama's top ten books of 2017*The Times Top 10 BestsellerGuardian Top 10 BestsellerThe New York Times Top 5 BestsellerLonglisted for the Carnegie Medal 2018 and finalist for the Neustadt Prize 2018'Spare, crystalline prose, mixing the real and the surreal and using old fairy-tale magic...
An unnervingly dystopian portrait of what might lie down the road' Michiko Kakutani, New York TimesAn extraordinary story of love and hope from the bestselling, Man Booker-shortlisted author of The Reluctant FundamentalistNadia and Saeed are two ordinary young people, attempting to do an extraordinary thing - to fall in love - in a world turned upside down.
Theirs will be a love story but also a story about how we live now and how we might live tomorrow, of a world in crisis and two human beings travelling through it. Civil war has come to the city which Nadia and Saeed call home.
Before long they will need to leave their motherland behind - when the streets are no longer useable and the unknown is safer than the known.
They will join the great outpouring of people fleeing a collapsing city, hoping against hope, looking for their place in the world . . .
BIC: