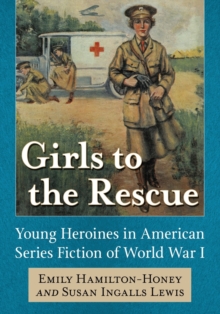 Girls to the Rescue : Young Heroines in American Series Fiction of World War I
1476668795 / 9781476668796
Stock expected by 21/06/2020
178 x 254 mm 277 pages, 20 photos
During World War I, as young men journeyed overseas to battle, American women maintained the home front by knitting, fundraising, and conserving supplies.
These became daily chores for young girls, but many longed to be part of a larger, more glorious war effort.
A new genre of children's books entered the market, written specifically with the young girls of the war period in mind.
Through fiction, girls could catch spies, cross battlefields, man machine guns, and blow up bridges.
These adventurous heroines built the framework for the feminist revolution, creating avenues of leadership for women and inspiring individualism and self-discovery.
The work presented here analyzes the powerful response to such literature, how it sparked the engagement of real girls in the United States and Allied war effort, as well as how it reflects their contemporaries' awareness of girls' importance.
BIC:
DSRC Literary companions, book reviews & guides, DSY Children's & teenage literature studies, HBWN First World War, JFSJ1 Gender studies: women