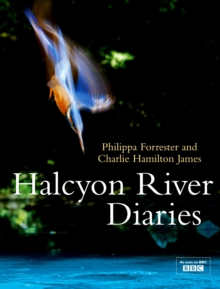 1848092253 / 9781848092259
Usually dispatched within 2 weeks
26 cm 224 p. : ill. (chiefly col.), maps, col. ports.
A mayfly dances above honey-gold water in the evening sunshine; a kingfisher plunges into the sparkling depths to emerge with a struggling minnow in its orange beak; an otter slips silently through reeds; a family of moorhens paddles to its night-time lodgings.
Here is the perfect, idyllic scene of a British river in summertime captured with love and astonishing skill by two of the leading wildlife filmmakers of our age.
Halcyon River Diaries was commissioned following the phenomenally successful and award-winning My Halcyon River an intimate portrait of a secret world along a river in Britain, where otters hunt on the midnight current, mink lie in wait to ambush unwary victims and gleaming kingfishers pierce the water to spear their prey.
Deemed as one of the most beautiful films at the Wildscreen festival, 2004, My Halcyon River was the winner of the Kodak Cinematography Award. Halcyon River Diaries is an evocative look at the wildlife of a typical English river, through the eyes of Philippa and Charlie's family, including their three young sons Fred, Gus and Arthur, who live beside it.
Over the period of a year we experience life on the river following the same group of animal characters as they navigate the seasons, as well as seeing how Philippa and Charlie's passion for the river extends into every part of their family life.
BIC: