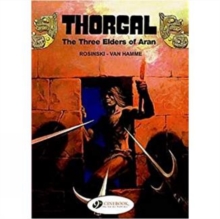 The three elders of Aran
Part of the Thorgal series
1905460317 / 9781905460311
Usually dispatched within 4 weeks
26 cm 96 p. : chiefly col. ill.
In these new adventures, Aaricia is crowned Queen and Thorgal has to face many difficult tests to track down his beloved.
They spend some happy days together in the countryside and their first child is announced.
Alas, everything is upside down by the jealousy of Shaniah, a teenager who Thorgal turned away.
Then Thorgal is taken prisoner on board the Black Galley, where he is turned into a plaything by Veronar, a degenerate tyrant.
BIC:
5AN Interest age: from c 12 years, YFW Comic strip fiction / graphic novels (Children's / Teenage)