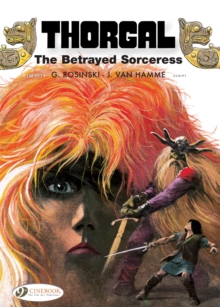 The betrayed sorceress
Part of the Thorgal series
1849184437 / 9781849184434
Stock expected by 09/12/2021
26 cm 96 pages : chiefly illustrations (colour)
Translated from the Dutch.
Thorgal's coming-of-age is painfully similar to the rest of his life: the young man finds himself tied up to the stone of sacrifice by Gandalf the Mad, king of the Vikings of the North and father of his beloved Aaricia.
There, the Child of the Stars can do nothing but wait for the coming tide - and death.
Until, that is, a mysterious sorceress with flaming red hair comes to offer him a deal: his life, and revenge, against one year in her service.
BIC: