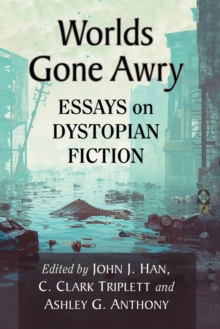 Worlds gone awry : essays on dystopian fiction
147667180X / 9781476671802
Usually dispatched within 4 weeks
Dystopian fiction has captured the imaginations of countless readers as they consider life in worlds at once eerily similar and shockingly foreign to their own.
Essays on Dystopian Fiction as Critique of Culture showcases the most recent research on dystopian fiction whose readership has surged dramatically since the 1990s.
Sixteen chapters-written by scholars from the United States, England, Ireland, India, and Poland-explore literary and popular dystopian novels focusing on the genre as a form of social critique.
The essays reveal how both literary and popular dystopias arise from the same impulse as utopian fiction: the desire for an idealized and always illusory society in which evil is purged and justice prevails.
Written from a variety of critical perspectives, these essays explore some of the literary novels (such as The Lord of the Flies and The Heart Goes Last) as well as some new popular ones (such as The Giver, The Hunger Games, and The Strain Trilogy).
The essays collected here hold value for both fans and scholars of dystopian literature, a genre that has demonstrated its mass market appeal and its validity as an area of academic study.
BIC:
DSK Literary studies: fiction, novelists & prose writers, DSRC Literary companions, book reviews & guides