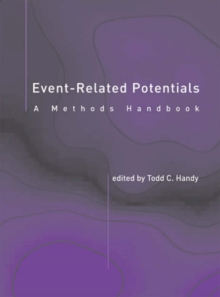 Event-related potentials : a methods handbook
0262083337 / 9780262083331
23 cm 416 p. : ill. (some col.)
general Learn More
research & professional
academic/professional/technical
The first comprehensive handbook to detail ERP methodology, covering experimental design, data analysis, and special applications. The study of event-related potentials (ERPs)-signal-averaged EEG recordings that are time-locked to perceptual, cognitive, and motor events-has increased dramatically in recent years, but until now there has been no comprehensive guide to ERP methodology comparable to those available for fMRI techniques.
Event-Related Potentials meets the need for a practical and concise handbook of ERP methods that is suitable for both the novice user of an ERP system and a researcher more experienced in cognitive electrophysiology. The chapters in the first section discuss the design of ERP experiments, providing a practical foundation for understanding the design of ERP experiments and interpreting ERP data.
Topics covered include quantification of ERP data and theoretical and practical aspects of ANOVAs as applied to ERP datasets.
The second section presents a variety of approaches to ERP data analysis and includes chapters on digital filtering, artifact removal, source localization, and wavelet analysis.
The chapters in the final section of the book cover the use of ERPs in relation to such specific participant populations as children and neuropsychological patients and the ways in which ERPs can be combined with related methodologies, including intracranial ERPs and hemodynamic imaging.
BIC: