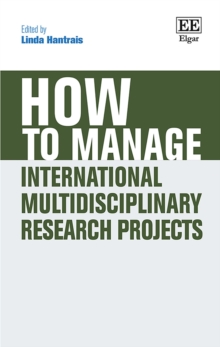 How to manage international multidisciplinary research projects
1802204717 / 9781802204711
Usually dispatched within 4 weeks
The combination of global financial, health and climate crises in the 21st century brought both threats and opportunities for the international research community.
Today, scientists are being actively encouraged to collaborate on an unprecedented scale across cultural and disciplinary boundaries to find and deliver solutions to these societal challenges.
This insightful How to Guide is expertly crafted to assist mid-career academic and non-academic researchers in preparing for new and innovative ways of working in international multidisciplinary environments.
Drawing on illustrative case studies by experienced researchers, the guide aims to improve understanding of, and responses to, the multifaceted challenges involved in managing an ever more complex research process, from applications for funding, team building, research design and methods, to engagement with diverse stakeholders, internal and external communications and dissemination.
The book offers project managers, coordinators and team members specialised advice on developing strategies to bridge what are often deep-seated disciplinary and cultural divides. By demonstrating how to implement effective integrated approaches to the design and delivery of high-quality, high-value research across disciplines, sectors, and societies, this engaging How to Guide will be an essential resource for career researchers seeking lessons from experienced managers of international multidisciplinary research projects.
BIC:
GT Interdisciplinary studies, JNMN Universities, KJMP Project management