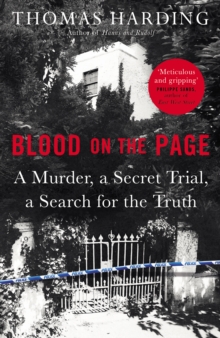 Blood on the page : a murder, a secret trial and a search for the truth
1785151045 / 9781785151040
24 cm xxi, 338 pages, 16 unnumbered pages of plates : illustrations (black and white), maps (black and wh
***WINNER OF THE CRIME WRITERS' ASSOCIATION ALCS GOLD DAGGER FOR NON-FICTION***'Meticulous and gripping - a thriller that disturbs for revelations about a singular act of murder, and the national security state which we call home' PHILIPPE SANDS, author of East West StreetA groundbreaking examination of a terrifying murder and its aftermath by the bestselling author of Hanns and Rudolf and The House by the Lake. In June 2006, police were called to number 9 Downshire Hill in Hampstead.
The owner of the house, Allan Chappelow, was an award-winning photographer and biographer, an expert on George Bernard Shaw, and a notorious recluse, who had not been seen for several weeks.
Someone had recently accessed his bank accounts, and attempted to withdraw large amounts of money.
Inside the darkened house, officers found piles of rubbish, trees growing through the floor, and, in what was once the living room, the body of Chappelow, battered to death, partially burned and buried under four feet of paper. The man eventually arrested on suspicion of his murder was a Chinese dissident named Wang Yam: a man who claimed to be the grandson of one of Mao's closest aides, and a key negotiator in the Tiananmen Square protests.
His trial was the first in modern British history to be held `in camera': closed, carefully controlled, secret.
Wang Yam was found guilty, but has always protested his innocence.
Thomas Harding has spent the past two years investigating the case, interviewing key witnesses, investigating officers, forensic experts and the journalists who broke the story, and has unearthed shocking and revelatory new material on the killing, the victim and the supposed perpetrator.
It is a crime that has been described in the press and by the leading detective as 'the greatest whodunnit' of recent years: an extraordinary tale of isolation, deception and brutal violence, stretching from the quiet streets of north London to the Palace of Westminster and beyond.
It is an explosive new work of non-fiction from an author working at the height of his powers. www.bloodonthepage.com_________________'An In Cold Blood for our time - a brilliant and unflinching anatomy of a murder that is both brutal true crime and heartbreaking human tragedy' TONY PARSONS'A fine and fascinating read, bolstered by exemplary research and nuanced insights.' OBSERVER`A real-life procedural... which might have important implications for us all.' GUARDIAN'Reads like a thriller... a rigorous investigation... a revealing piece of social history.' SUNDAY TIMES'Detailed, painstaking and fascinating.' EVENING STANDARD
BIC: