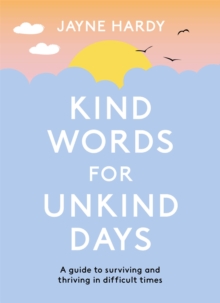 Kind words for unkind days : a guide to surviving and thriving in difficult times
1398700509 / 9781398700505
'This book is like a mug of hot chocolate on a cold day, a loving reminder that we are brave, capable and more than enough.' Chloe Brotheridge, author of The Anxiety Solution'In these dark and weird times, I can't think of a book we need more.' Lucy VineA practical pick-me-up for life's tough days, this book is the perfect guide to help you feel happier, healthier and calmer. We all have days where we feel like the world is getting us down.
But here's the thing - you're not alone. From helping us see what strong really looks like, to what to do when you have no energy for self-care; Jayne Hardy shows us that even on our most difficult days, a little kindness can go a very long way. With easily digestible advice and soothing messages to help you find brightness on even the darkest days, this is the book we all need.
Perfect for yourself or as a gift to a family member or friend, this book is the message we all need to hear: Be kind. _________Praise for The Self Care Project: 'Refreshing, heartfelt and humble.
This book will be a game changer in promoting positive mental health' Sarah Turner, The Unmumsy Mum'What a great book, so practical and so interesting - it might even be a lifesaver' - Jeremy Vine'This book tackles the enormously important subject of self-care with wit, insight and the warmth of personal experience' - Poorna Bell
BIC:
VFJP Coping with anxiety & phobias, VS Self-help & personal development, VSPM Assertiveness, motivation & self-esteem