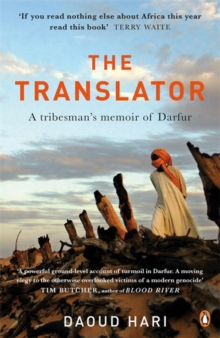 The translator : a tribesman's memoir of Darfur
0141037008 / 9780141037004
Usually dispatched within 4 weeks
Daoud Hari lost a way of life in Darfur. But amidst the carnage and turmoil, he found a new calling... As a Zaghawa tribesman in the Darfur region of Sudan, Daoud Hari grew up racing camels across the desert, attending gloriously colourful weddings and, when his work was done, playing games under the moonlight.
But in 2003, helicopter gunships swooped down on Darfur's villages and shattered that way of life for ever.
Soon, Sudanese government-backed militias, attacking on horseback, came to murder, rape and burn.
To drive the tribesmen from their lands. When Hari's village was attacked and destroyed, his family was decimated and dispersed.
He escaped, and together with a group of friends roamed the battlefield deserts, helping the weak and vulnerable find food, water and a path to safety. And when international aid groups and reporters arrived, Hari gave his services as a translator and guide.
To do so was to risk his life, for the Sudanese government had outlawed journalists, punishing aid to 'foreign spies' with death.
Yet Hari did so time and again. Until, eventually, his luck ran out and he was captured... The Translator is a harrowing tale of selfless courage in terrifying conditions.
BIC:
1HBS Sudan, 3JMC c 2000 to c 2010, BTP True stories of heroism, endurance & survival, HBJH African history, HBLX 21st century history: from c 2000 -, HBTZ Genocide & ethnic cleansing