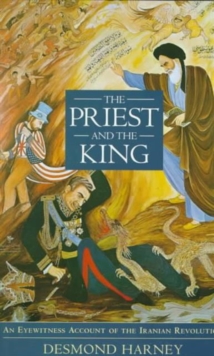 The priest and the king : an eyewitness account of the Iranian revolution (Rev. ed)
1860643744 / 9781860643743
Usually dispatched within 4 weeks
Reprint. This ed. originally published: 1998.
The author, a former British diplomat, was living in Tehran during the build-up to the Iranian Revolution and kept a day-to-day account of the events he witnessed, as the priest and the king - the Ayatollah Khomeini and the Shah - squared up to each other.
The author's faithfully recorded responses - of hope, fear, confusion, scepticism and ultimately despair - reflect with substantial accuracy the spirit in Iran as the country swung from being a docile, Western-orientated ally to an unpredictable, brooding, revolutionary state.
Harney had access to all elements of Iran's political elite, including the Shah, and was able to capture the atmsophere of Iran in revolution.
This diary is, therefore, an important document: a day-to-day account kept by an outsider who was intimately familiar with Iran, a crucial contribution to our historical understanding of events.
BIC:
1FB Middle East, 3JJPL c 1970 to c 1980, BG Biography: general, HBJF1 Middle Eastern history, HBLW3 Postwar 20th century history, from c 1945 to c 2000, HBTV Revolutions, uprisings, rebellions, JPWQ Revolutionary groups & movements