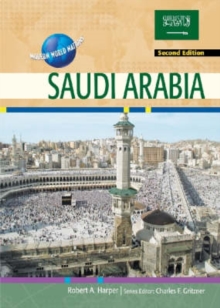 Saudi Arabia (Second Edition)
0791095169 / 9780791095164
Stock expected by 25/04/2021
120 pages, col. Illustrations, col. maps
The Kingdom of Saudi Arabia is the largest country on the Arabian Peninsula and the world's leading petroleum producer and exporter.
Most of the country has a desert climate, averaging less than an inch of precipitation a year, and temperatures often reach well above 100[degrees]F.
In recent years, Saudi Arabia has been thrust into the limelight by allowing Western and Arab forces to use the country to deploy their forces during the First Gulf War in 1991 and, more recently, as a place where Islamist terrorist group al-Qaeda has begun to use as a base for its operations. ""Saudi Arabia"" is an in-depth guide that paints a vivid picture of this striking country thanks to its wealth of full-color photographs and maps and its readable text.
Perfect for student research, this book is an invaluable exploration of the people, culture, history, geography, environment, economy, and government of Saudi Arabia.
BIC: