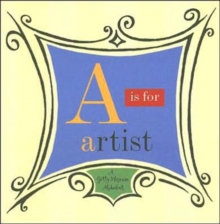 A is for artist : a Getty Museum alphabet
0892363770 / 9780892363773
Stock expected by 05/02/2020
21 cm 60 p., [52] p. of plates : chiefly col. ill.
In this delightful alphabet book, cleverly illustrated with paintings from the collection of the Getty Museum, A is for an artist by Jan Steen, B is for a bumblebee by Ambrosius Bosschaert, and C is for a candle by Jean-Francois de Troy.
Details from twenty-six different paintings by artists including Vincent van Gogh, Paul Cezanne and Edgar Degas provide the objects corresponding with each letter of the alphabet.
The book also contains reproductions of all the paintings from which the details were selected.
This charming book provides a unique opportunity to help children learn the ABC's while teaching them to look closely at great works of art. The other artists are:Pompeo Batoni (Italian, 1708-1787) Jan van Huysum (Dutch, 1682-1749) Luca Carlevarijs (Italian, 1663-1730) Hendrick ter Brugghen (Dutch, 1588-1629) Francesco Salviati (Francesco de'Rossi) (Italian, 1510-1563) Bartolommeo Vivarini (Italian, about 1432-1499) Dosso Dossi (Giovanni de'Luteri) (Italian, active 1512--died 1542) Pierre-Auguste Renoir (French, 1841-1919) Jean-Simeon Chardin (French, 1699-1779) Jan Brueghel the Elder (Flemish, 1568-1625) Sebastiano Ricci (Italian, 1659-1734) Carlo Dolci (Italian, 1616-1686) Jean-Etienne Liotard (Swiss, 1702-1789) James Ensor (Belgian, 1860-1949) Lawrence Alma Tadema (Dutch/English, 1836-1912) Georges de La Tour (French, 1593-1652) Pieter de Hooch (Dutch, 1629-1684) Pier Francesco Mola (Italian, 1612-1666) Joseph Ducreux (French, 1735-1802) Joachim Wtewael (Dutch, 1566-1638)
BIC:
1KBB USA, 5AF Interest age: from c 5 years, WTHM Museum, historic sites, gallery & art guides, YBLA Early learning: ABC books / alphabet books, YNA Art: general interest (Children's / Teenage)