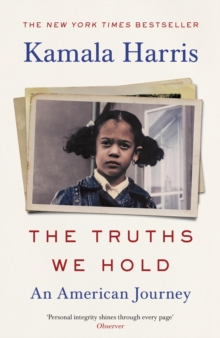 The truths we hold : an American journey
1529114462 / 9781529114461
General (US: Trade) Learn More
Professional & Vocational
Tertiary Education (US: College)
Reprint. Originally published: London: The Bodley Head, 2019.
Read the inspiring Sunday Times bestselling memoir from the first woman, and woman of colour, to serve as Vice President of the United States. 'A life story that genuinely entrances' Los Angeles TimesThe daughter of immigrants and civil rights activists, Vice President Kamala Harris was raised in a California community that cared deeply about social justice.
As she rose to prominence as a political leader, her experiences would become her guiding light as she grappled with an array of complex issues and learned to bring a voice to the voiceless. Now, in The Truths We Hold, Harris reckons with the big challenges we face together.
Drawing on the hard-won wisdom and insight from her own career and the work of those who have most inspired her, she communicates a vision of shared struggle, shared purpose, and shared values as we confront the great work of our day. 'Personal integrity shines through every page' Observer
BIC:
1KBB USA, BGHA Autobiography: historical, political & military, JPHL Political leaders & leadership