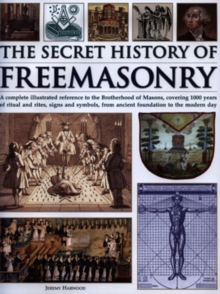 The secret history of freemasonry : a complete illustrated reference to the Brotherhood of Masons, covering 1000 years of ritual and rites, signs and symbols, from ancient foundation to the modern d
0754816346 / 9780754816348
Usually dispatched within 2 weeks
31 cm 96 p. : ill. (some col.)
The Freemasons is one of the world's oldest secular fraternal societies.
Its membership is made up of a society of men who declare their concern with moral and spiritual values.
The origins of the society are uncertain, but it is thought that the organization evolved hundreds of years ago from travelling stone masons who made the medieval cathedrals and castles.
As well as exploring the history and legends of the Freemasons, this book also delves into the analysis and illustration of the signs and symbols of the Freemasons.
Symbols such as the all-seeing eye, the five-pointed star, the sun and the moon, the mason's square.
Beautifully illustrated with over 300 fine art images, this book will appeal to anyone interested in finding out the meaning of the symbolism of the past.
BIC:
* Variable discounts between 0% and 15% are applied to items where BBfS cannot determine exact discounts from suppliers.