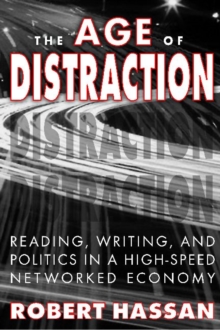 The Age of Distraction : Reading, Writing, and Politics in a High-Speed Networked Economy
1412843065 / 9781412843065
Usually dispatched within 4 weeks
152 x 229 mm, 431 grams 238 pages
Connections between time, technology, and the processes of reading and writing make clear the links between experiences of what appear to be quite different phenomena.
Reading and writing have functioned together in a particular way to build the world as we have known it for three thousand years.
These interacting processes have now been transformed at their core and are building a different world, one where certainties of the previous era are disappearing and being displaced by what the author sees as a chronic and pervasive mode of cognitive distraction. Robert Hassan offers a perspective permeated by a sense of history, beginning with the invention of writing and the development of the skill of reading.
Together with technological developments, these provide a unique view of the trajectory of modernity into late-modernity, and illustrate how the arc of progress has transformed.
New modes of time, technology, and reading and writing are helping create a faster world where we know less about more-and forget what we know evermore quickly. What is the "time" of a thought? Is it possible to measure thinking? Can we consider knowledge or information, or reading and writing, as having temporal "rhythms"?
These are questions Hassan tries to answer. So unfamiliar are we to thinking in such terms that they sound impossible.
To a significant degree, time, thinking, and many forms of knowledge are the fruits of subjective experience.
We connect experiences at superficial levels, where people have different experiences that may be objectively the same, but our interpretations will always diverge in respect of the "reality" we confront.
This intersection of philosophy and communication takes the reader into new realms of analysis.
BIC: