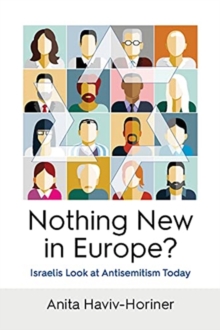 Nothing new in Europe? : Israelis look at antisemitism today
1800733178 / 9781800733176
Usually dispatched within 4 weeks
Today, more than 75 years after the Holocaust and World War II, antisemitism remains a poisonous force in European culture and politics, whether cloaked in the garb of reactionary nationalism or manifested in outright physical violence.
Nothing New in Europe? provides a sobering look at the persistence of European antisemitism today through fifteen interviews with Jewish Israelis living in Germany, Poland, France, and other countries, supplemented with in-depth scholarly essays.
The interviewees draw upon their lived experiences to reflect on anti-Jewish rhetoric, the role of Israel, and the relationship between antisemitism and the persecution of other minorities.
BIC:
1D Europe, HBTD Oral history, HRJ Judaism, JFSL1 Ethnic minorities & multicultural studies, JFSR1 Jewish studies