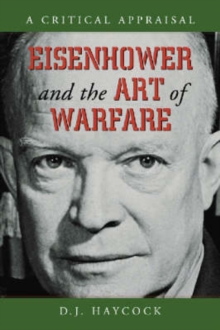 Eisenhower and the art of warfare : a critical appraisal
078641894X / 9780786418947
Stock expected by 08/03/2020
postgraduate Learn More
research & professional
undergraduate
On August 14, 1942, Chief of Staff George C. Marshall appointed General Dwight D. Eisenhower Commander of the European theater of operations for North Africa.
Eisenhower had no prior training or experience in warfare and no experience commanding an army.
Frequently, he was subjected to unjustifiable interference from Marshall (who was 3,000 miles away from the fighting).
This book explores the idea that both Eisenhower and Marshall made too many decisions which were based not on sound military principles, but rather on nationalism and well-intended generosity.
Beginnning with his appointment and the planning of the invasion of North Africa (codename Torch), this work suggests that Eisenhower's involvement in political situations weakened his effectiveness on the battlefield.
One chapter focuses on the poorly organized Allied air command in Algeria, discussing Eisenhower's reluctance to be part of a unified air command.
Another records his appointment to the position of Supreme Allied Commander North African Theater of Operations, and also explores Eisenhower's inconsistencies and indecisiveness during the planning of the invasion of Sicily. Chapter Seven covers the much-disputed Dragoon operation - the invasion of Southern France to the detriment of the Italian campaign - and Eisenhower's insistence on "broad front" warfare and resistance to the idea of indirect attack.
Much of the book provides detailed insight into the rationale - both sound and questionable - that was behind many of the strategic decisions made by Eisenhower during World War II and suggests that with more experienced leadership, the conclusion could have come much sooner and with fewer casualties.
BIC:
3JJH c 1939 to c 1945 (including WW2), BGH Biography: historical, political & military, HBJK History of the Americas, HBWQ Second World War