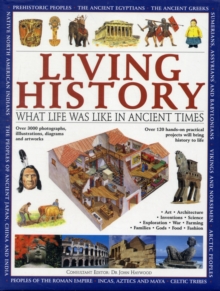 Living history : what life was like in ancient times
1843229374 / 9781843229377
Usually dispatched within 2 weeks
22 cm 512 p. : ill. (chiefly col.), col. maps, ports. (some col.)
Reprint. Originally published: 2006.
This illustrated encyclopedia explores every aspect of human history from the growth of farming, work and trade through science, crafts and technology to the importance of art, culture and entertainment.
Over 3000 photographs, illustrations, fact boxes and maps and more than 120 step-by-step projects involve the young reader in recreating the past as they build a pyramid, cook a meal from history or dress up in ancient armour.
Making models and items helps the reader to a closer study of art, architecture, fashion and transport, and to understand more about the way ancient lives were shaped.
This is a comprehensive, authoritative and stimulating encyclopedia and activity book.
It is perfect as a home study aid or class textbook and an invaluable addition to any school or general library.
This title includes over 3000 photographs, illustrations, cross-sections, diagrams, artworks, maps, fact boxes and timelines.
It also includes over 120 hands-on step-by-step projects bring history to life - children can make artefacts, clothing, games and models and place them in historical context. This title helps to compare the lives, behaviour and development of people and communities in various lands and cultures.
Civilisations studied include: the Stone Age, Mesopotamia, Ancient Egypt, Ancient Greece, The Roman Empire, The Celts, The Vikings, The Aztecs and Maya, The Incas, Ancient Japan, The Chinese Empire, Ancient India, The Arctic World, and North American Indians.
BIC:
1QDA Ancient World, YNH History & the past: general interest (Children's / Teenage)
* Variable discounts between 0% and 15% are applied to items where BBfS cannot determine exact discounts from suppliers.