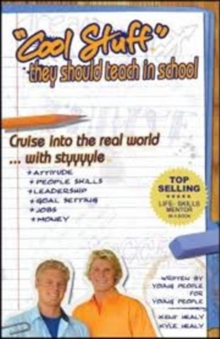 Cool Stuff They Should Teach in School : Cruise into the Real World ... with Style
0976025809 / 9780976025801
Usually dispatched within 4 weeks
215 x 140 mm, 421 grams 304 pages, illus
Why did we write it? Because they don't teach it in school. There are basic skills that every person MUST know in order to function in the real world-and it's all 'Cool Stuff.' We like to refer to these skills as the 'fundamentals of life'.
In sports, the difference in winning and losing can simply be your grasp of the game's fundamentals.
Whether we play sports or not, we're all participants in the game we call 'life.' Do we want to win this game?
Of course we do! Here's the problem: We can have all the enthusiasm and all the passion in the world, but if we don't get the basics down first, all that energy is wasted.
The same is true for life. Without knowing the fundamentals you'll probably get hurt and you definitely won't be having fun. 'Cool Stuff' they should teach in school offers these fundamental skills of life in a fun, easy-to-read format.
BIC:
YQNP Educational: Personal, social & health education (PSHE)
* Variable discounts between 0% and 10% are applied to items where BBfS cannot determine exact discounts from suppliers.