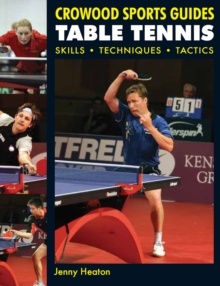 Table tennis : skills, techniques, tactics
1847970907 / 9781847970909
25 cm 93 p. : ill. (chiefly col.), col. ports.
Crowood Sports Guides provide sound, practical advice that will help make you a better sportsperson whether you are learning the basic skills, discovering more advanced techniques or reviewing the fundamentals of your game.
Featured in this book are: information boxes containing Top Tips and Key Points; an introduction to the rules, equipment and tournament play; colour action shots, sequence photographs of the strokes and detailed diagrams; an analysis of the skills and techniques needed by players just beginning table tennis, and by intermediate and advanced level players; helpful advice on different styles of play and tactics, and finally, practical information concerning coaching, table exercises, training and nutrition.
BIC: