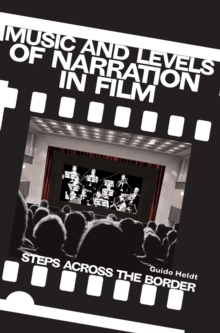 Music and levels of narration in film : steps across the border
1841506257 / 9781841506258
24 cm x, 290 pages : illustrations (black and white)
Music and Levels of Narration in Film is the first book-length study to synthesize scholarly contributions toward a narrative theory of film music.
Moving beyond the distinction between diegetic and nondiegetic music--or music that is not understood as part of a film's "story world"--Guido Heldt systematically discusses music at different levels of narration, from the extrafictional to "focalizations" of subjectivity.
Heldt then applies this conceptual toolkit to study the narrative strategies of music in individual films, as well as genres, including musicals and horror films.
The resulting volume will be an indispensable resource for anyone researching or studying film music or film narratology. A PDF version of this book is available for free in open access via the OAPEN Library platform, www.oapen.org It has been made available under a Creative Commons Attribution 4.0 International Public License and is part of Knowledge Unlatched.
BIC:
APFA Film theory & criticism, AVA Theory of music & musicology