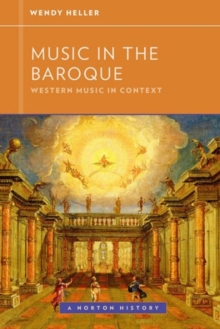 0393929175 / 9780393929171
Usually dispatched within 2 weeks
157 x 236 mm, 570 grams 336 pages
Wendy Heller's Music in the Baroque traces the production and consumption of music in the seventeenth and early eighteenth century.
Going beyond a history of styles, the text explores patronage, education, religious and civic ritual, theater, and visual culture.
Heller focuses not only on the nature of music in the Baroque period, but also on the very different ways in which men and women experienced music in their daily lives.
Treating music as an expression of political and national identity, she examines it in the context of the era's art and literature, political and religious conflicts, and contentious issues of class and gender. Western Music in Context: A Norton History comprises six volumes of moderate length, each written in an engaging style by a recognized expert.
Authoritative and current, the series examines music in the broadest sense-as sounds notated, performed, and heard-focusing not only on composers and works, but also on broader social and intellectual currents.
BIC:
* Variable discounts between 0% and 15% are applied to items where BBfS cannot determine exact discounts from suppliers.