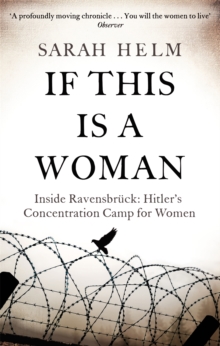 If this is a woman : inside Ravensbrèuck - Hitler's concentration camp for women
034912003X / 9780349120034
20 cm xix, 823 pages, 16 unnumbered pages of plates : illustrations (black and white), maps (black and wh
Reprint. Originally published: London: Little, Brown, 2015.
Winner of the Longman-History Today Book Prize: A 'profoundly moving chronicle' (Observer) that tells the story of Ravensbruck, the only concentration camp designed specifically for women, using new testimony from survivorsOn a sunny morning in May 1939 a phalanx of 800 women - housewives, doctors, opera singers, politicians, prostitutes - were marched through the woods fifty miles north of Berlin, driven on past a shining lake, then herded through giant gates.
Whipping and kicking them were scores of German women guards. Their destination was Ravensbruck, a concentration camp designed specifically for women by Heinrich Himmler, prime architect of the Nazi genocide. For decades the story of Ravensbruck was hidden behind the Iron Curtain and today is still little known.
Using testimony unearthed since the end of the Cold War, and interviews with survivors who have never spoken before, Helm has ventured into the heart of the camp, demonstrating for the reader in riveting detail how easily and quickly the unthinkable horror evolved. 'It not only fills a gap in Holocaust history but it is an utterly compelling read' Taylor Downing, History Today'A sense of urgency infuses this history, which comes just in time to gather the testimony of the camp's survivors . . . meticulous, unblinking . . . [Helm's] book comes not a moment too soon' The Economist
BIC:
1DFG Germany, 3JJH c 1939 to c 1945 (including WW2), HBJD European history, HBLW 20th century history: c 1900 to c 2000, HBTZ1 The Holocaust