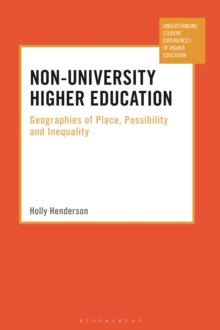 Non-University Higher Education : Geographies of Place, Possibility and Inequality
1350145319 / 9781350145313
Usually dispatched within 4 weeks
156 x 234 mm 224 pages, 10 bw illus
What does 'local' mean when it describes a student or an institution of higher education?
Holly Henderson explores this question by telling the story of students studying undergraduate degrees outside of the university, at colleges that offer degree courses but do not have university status. Because the students live at home while studying, and because the institutions themselves are seen to cater for a local rather than global student population, these are local students, studying local higher education.
Importantly, the students are also studying in localities without a history of higher education provision, where the possibility of living in this place and studying for a degree is relatively new. The book takes an in-depth approach to exploring how relationships to these places affect educational experience, how decisions are made about whether to leave or to stay for degree study, and what it means to be an undergraduate student who does not attend a university.
As well as working against the easy assumptions to be made about the lives and characteristics of a surprisingly diverse and complex group of students, the book offers insights into the ways that place and space are crucial and often overlooked factors for anyone thinking about systemic and structural inequality in higher education.
BIC:
JNF Educational strategies & policy, JNM Higher & further education, tertiary education