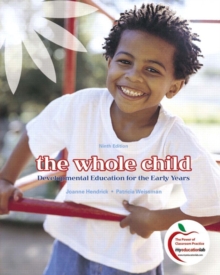 The whole child : developmental education for the early years (9th ed)
0137153058 / 9780137153053
Previous ed.: Upper Saddle River, N.J.: Pearson/Merrill Prentice Hall, 2006.
"If we offer the young children we teach rich and appropriate learning opportunities combined with enough time for them to enjoy and experience those opportunities to the fullest, we will enhance childhood, not violate it." The Whole Child is a practical methods book that explains how to teach young children in ways that foster healthy development. This text focuses on the "whole child" and what they need from the learning environment in order to thrive.
It pictures the child as being made up of "selves" - emotional, social, physical, creative, and cognitive--and then examines each of those selves in turn. The physical self includes not only large and fine muscle development, but also the handling of routines because such things as eating, resting, and toileting contribute much to physical comfort and well-being.
For the emotional self, the book considers ways to increase and sustain mental health, to cope with crises, to use discipline to foster self-control, to cope with aggression, and to foster self-esteem.
Included for the social self are ways to build social concern and kindliness and learning to value the cultures of other people. The creative self covers the areas of self-expression through the use of art materials and creativity as expressed in play and applied in thought.
Finally, the cognitive, or intellectual, self is considered in terms of language and literacy development--the development of reasoning and thinking skills via the emergent approach, and the development of specific reasoning abilities.
New To This Edition: NEW! - Presents the content in a new 16-chapter format. * Chapter 6 is a new chapter onAssessment and Planning-Helps students understand the current emphasis on standards-based education and how to maintain "best practices" while meeting school requirements.* Chapter 15 is a new chapter, Fostering the Creative Self-Discusses what creativity is, how it develops, and what teachers can do to enhance children's creative growth.* Chapter 16 is a new chapter, Developing and Implementing Curriculum for the Whole Child-Helps students pull together the different elements of early childhood education into a cohesive program for the whole child.* Other chapters were combined and streamlined for more practical use by instructors. (The content from Chapter 7, Tender Topics, has been integrated into other chapters.) NEW! Discusses the integrated curriculum-Helps students understand the importance of meeting all of the children's developmental needs across the curriculum spectrum.
NEW! Presents new information about the ecological theory of human development as outlined by Urie Brofenbrenner.
NEW! Includes content on children in elementary grades 1-3 in each chapter-Expands the usefulness of the text to primary school teachers.
BIC: