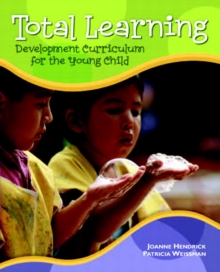 Total Learning : Developmental Curriculum for the Young Child (7 ed)
0132225662 / 9780132225663
205 x 253 mm, 748 grams 432 pages
For a course covering Early Childhood Curriculum. This text is based on primarily a constructivist philosophy and advocates designing curriculum that uses children's emerging interests within a flexible and thoughtful teacher-guided plan. The developmental approach emphasizes that learning should be integrated.
The text addresses curriculum through discussion of the five selves: physical, emotional, social, creative, and cognitive.
The authors emphasize play, cross-cultural sensitivity, and encouraging competence in young children. The clear writing and practical examples ensure easy reading.
The concise writing style, relevant examples, and practical suggestions are hallmarks of this text.
Present-day emergent curriculum programs are explored in new "Emergent Curriculum in Action" features.
Well-developed tables organize pertinent information. The excellent theoretical base and conceptual framework for curriculum provide understanding that will stay with students forever. The text encourages students to respond to the needs of children, but also explains how to identify goals and objectives, incorporate them into curriculum that meets individual needs, and use developmentally appropriate assessment methods.
BIC: