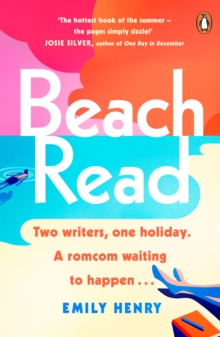 Beach read
0241989523 / 9780241989524
'The hottest book of the summer' JOSIE SILVER'A great love story' JODI PICOULT'The perfect escapist romp' LAURA JANE WILLIAMSNEW YORK TIMES BESTSELLER 2020Binge-watched Normal People and Love is Blind and now looking to escape into another suitably steamy love story?
Look no further... ______________________________TWO WRITERS, ONE HOLIDAY.
A ROMCOM WAITING TO HAPPEN... January is a hopeless romantic who narrates her life like she's the lead in a blockbuster movie. Gus is a serious literary type who thinks true love is a fairy-tale. But January and Gus have more in common than you'd think:They're both broke. They've got crippling writer's block. And they need to write bestsellers before summer ends. The result? A bet to swap genres and see who gets published first. The risk? In telling each other's stories, their worlds might be changed entirely... Set over one sizzling summer, Beach Read is a witty love story that will make you laugh a lot, cry a little and fall head over heels.
For fans of The Flat Share and If I Never Met You. ______________________________WHAT PEOPLE ARE SAYING'Reader, I swooned!
Beach Read is a breath of fresh air. My heart ached for January, and Gus is to die for - a steamy, smart and perceptive romance.
I was engrossed!' Josie Silver'Full of banter, heat, and sexual tension, I felt the thrill of falling in love right alongside January and Gus.
A gorgeous page-turner of a novel' Laura Jane Williams'Funny, and seriously sizzling' Best'I absolutely loved this book!
This has easily become one of my favourite romance reads.
Their tension was phenomenal and the angst so well-done.
This read is gorgeous and heart wrenching in the most wonderful way ever' Safa, Netgalley'One of the most perfect love stories of the year.
Someone has to make this into a film!'Prima'Original, sparkling bright and layered with feeling.
If whipcrack banter and foggy sexual tension is your catnip, you'll adore this book' Sally Thorne'What an absolute flipping triumph of a novel!!!
I LOVED it . . . definitely one of my favourite reads of 2020' Emma Cooper'I really needed this book.
I didn't realize how much I needed it until I was giggling along with all the awkwardness and banter and feeling like I'd been taken away' Emily, Netgalley'Touching and heartfelt . . . I closed this book with a satisfied sigh' Jasmine Guillory'Clever and funny, this is a tender love story' Woman & Home
BIC:
1KBBEY New York, 1KBBNG Michigan, 3JMG c 2010 to c 2020, FA Modern & contemporary fiction (post c 1945), FRD Adult & contemporary romance