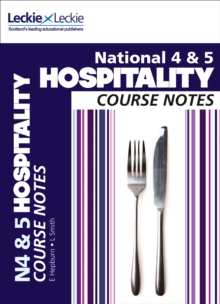 National 4/5 hospitality course notes
0007504810 / 9780007504817
Secondary Learn More
Student text (ie where teacher's version also exists
The National 4 & 5 Hospitality Course Notes help map your route through the CfE programme and provide comprehensive and authoritative guidance.
Course Notes give a practical, supportive approach to help deliver the new curriculum and offer an appropriate blend of sound teaching and learning with exam and assessment guidance. * Full coverage of National 4 and 5 course specifications with list of learning intentions* Attractive layout with clear text features* National 5 content clearly marked for differentiation* Key questions highlight crucial concepts and techniques that need to be grasped by students in order to progress to the next learning intention* What the examiner/assessor is looking for to help teachers & students feel secure* End of unit material - unit assessment, exam-style questions with worked answers and examiners commentary, self-assessment* Keep your learning on track/Stretch yourself to encourage self evaluation and provide challenge for higher ability students* Active learning ideas: `You Should Already Know', lists for student to check they are confident with before proceeding AND `Make the link' highlights links between the topic and other areas of the course and/or across different subjects* Assessment questions, exemplar work, model answers, suggested topic work
BIC:
4KSM For Intermediate 2 (Scottish), 4KSN For Intermediate 1 (Scottish), 4KSS For Standard Grade (Scottish), YQV Educational: Business studies & economics
£13.19
RRP £15.99
The title has been replaced. To check if this specific edition is still available please contact Customer Care +44(0)1482 384660 or schools.services@brownsbfs.co.uk, otherwise please click 9780008282257 to take you to the new version.
Other Formats