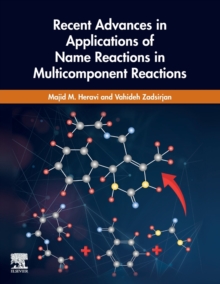 Recent Advances in Applications of Name Reactions in Multicomponent Reactions
0128185848 / 9780128185841
152 x 229 mm 446 pages, Approx. 150 illustrations; Illustrations, unspecified
Recent Advances in Applications of Name Reactions in Multicomponent Reactions is an ideal reference for researchers and postgraduate students studying organic chemistry, as well as synthetic organic chemists working on the development of novel methodologies for the synthesis of various heterocyclic systems, especially drug design and discovery, in both academia and industry.
The book reviews recent applications of name reactions in multicomponents for the synthesis of heterocycles and examines recent advances in applications of significant name reactions, such as Ugi and Passirini, Click, Knoevenagel, Michael, Diels-Alder, Aldol, Mannich, Heck, Huisgen, and Suzuki in MCRs. These reactions can be used in the synthesis of a wide variety of novel heterocycles with different sizes and heteroatoms, as well as in the total synthesis of natural products in order to decrease the number of synthetic steps.
Since chiral inductions are necessary for most of these sequential name reactions, their asymmetric catalyzed reactions are also described.
BIC: