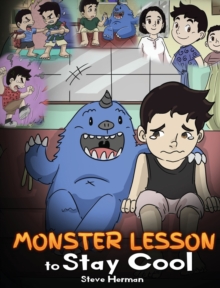 Monster Lesson to Stay Cool : My Monster Helps Me Control My Anger. A Cute Monster Story to Teach Kids about Emotions, Kindness and Anger Management.
1948040557 / 9781948040556
Usually dispatched within 4 weeks
203 x 254 mm, 363 grams 40 pages
A Cute Monster Story to help kids understand emotions, and how to be kind, and how to stay calm and handle when things don't go their way.
Meet Max – a regular boy who has a secret – he has a monster in his room!
Like any kids, Max often run into trouble at school, at the playground, or at home with his friends, teacher, mom, and his little brother.
Things didn't always go the way he want. Indeed, they always seemed go wrong, and that really made him really mad.
Luckily, his best friend monster came into rescue.
Fun, cute and entertaining with beautiful illustrations, this playful book will teach kids about emotions and anger management.
Get this book now to learn how the monster teaches Max to deal with his anger.
BIC:
YF Children's / Teenage fiction & true stories, YXL Personal & social issues: self-awareness & self-esteem (Children's / Teenage)